Ballybunion Bachelor Festival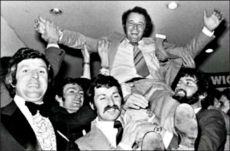 Bachelors aged 26 to 46 come from all over the world to Ballybunion for a week of fun and entertainment! Many gentlemen meet their true love in Ballybunion and many happy lives have been formed as a result of this festival over the past 40 years.

Events include a street carnival, family fun festival, fireworks, French markets, pub music, a festival club and the highlight of the celebrations is the selection of the 40th International Ballybunion Bachelor.
There will also be a children's fancy dress, treasure hunt, terrier racing, foam party, bouncy castles and lots more over the course of the week
Ballybunion Bachelor Festival
Ballybunion Bachelor Festival Accommodation
For Accomodation for this why not avail of Special Offers from Ballybunion Accommodation. Please call us on 0866000665