St Patricks Day Ballybunion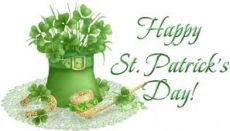 Saint Patrick's Day - stumble into any Irish-themed pub in Ballybunion on March 17th and there will be a Saint Patrick's Day celebration of all sorts going on. Most of them not really reflecting the sober image the Ancient Order of Hibernians tried to promote with its St patricks Day Parade, Howsever drive into Ballybunion town and Join in the fun with Family & friends.
St Patricks Day Ballybunion
Local parades and festivities will be held in all areas of Kerry, some parades starting at noon, others later - enquire locally.
St Patricks Day Ballybunion Accomodation
For B&B in Ballybunion throughout your St Patricks Day Parade Festivities, Call us today on 0866000665