Tralee Golf Club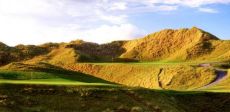 Just 30 minutes drive from Ballybunion Base Camp is Tralee Golf Club.
This Links course designed by the great Arnold Palmer of the USA
His best quote about Tralee was "I may have designed the first nine, but surely God designed the back nine".
On a sunny morning at Tralee you couldn't ask for more that to stroll down the first fairway and take on this gem of a course.
At Tralee the front nine winds around the bay with views for miles and golf holes to warm you heart. The Opening three Holes at Tralee stand alone in Ireland for style, views and the sheer class of golf Tralee has to offer! The second par Five dog leg to the right on the right is tempting to take the short line for birdie - beware with the Ocean out of bounds.
The 3rd hole par 3 playing toward the Castle ruins at the edge of the Ocean is as close to Pebble Beach Ireland can offer you in a links style of golf!
Then you take on the back nine and here you know that a higher hand had in helping to design Tralee Golf links. The 12th par 4 the hardest on the course is where bragging rights are gained if you make par or better! The Par 3 13th is world class hole as you send your shot over the valley of the gods to the heavenly green and don't be short! The last three holes at Tralee is where links style of golf shows its true colour's as a golf game played above all others in Ireland!
A must course when in the Southwest of Ireland Tralee Golf Club will give you the challenge that you want.
Tralee Golf Club
Tralee Golf Club Accomodation
Tralee Golf Club reservations are handled at no extra charge with BallybunionGuesthouse.com

Tralee Golf Club Green fees are 180 Euros a person for 2013 season High Season.

Call or e-mail today for low season rates and special offers.
Or conbine both course with Ballybunion and Tralee Golf Vacation Packages.

Ballybunion Golf Packages are available through this web site.
This guarantees your Old Course Golf Times and accommodation in one simple e-mail.
In March , April and October our Ballybunion Golf Package cost's €195 Euros a person sharing. Guaranteed Old Course and Cashen Course and two nights B&B
In May, June, July, August, & September our Ballybunion Golf Package cost's €300 Euros a person sharing. Guaranteed Old Course and Cashen Course and two nights B&B
Please call 0866000665 where we would be happy to accomodate your golfing trip.